myspace.com/jimmistone
"PEACE"....
the beat is by the weird ass d2MFB and his weird ass..
if you notice..it's a fucking Doors sample. hence...you can download it for FREE! yes..free download...right on my page.
and for the people who didn't realize..you can also download "Ben Stone" right of the page for free also!
anyways....i sent this track to a few people a couple weeks ago...a few liked it..but halfy and them were like:
nah..the sample is off. some of the keys are off jim!
DUH:) that's what i love most about this beat...everything is off.
hopefully you dig it..
and obviously this song is about peace. my usual fans listen to my lyrics..but i beg for you to listen to lyrics if you haven't yet. if that's not your "thing". what i'm saying, is PEACE. what more then that do you need?
ALSO..this song is for all the cats that are like:
'yo jimmi, love your shit..but can you add a couple more verses in there?".
well biiiiiitch, three long ass verse's for you..
and the chorus?
YUM.
I Throw Up The Duece
Then I Throw Up The L
Then I Roll Up The L
Then I Throw Up The Duece
don't get it? BLOW A TREE.
also, for you starving ass bitches that haven't copped my album...
do it.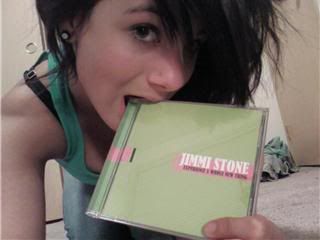 kayla did:)
hollerrrrrrrrr
(not dead...yet)
-jimmi stone
P.S.
want more music?
buy my cd...then i can actually make more music.
haha..don't you get it? :)